ZYCOM Z BIKE - SKY BLUE / WHITE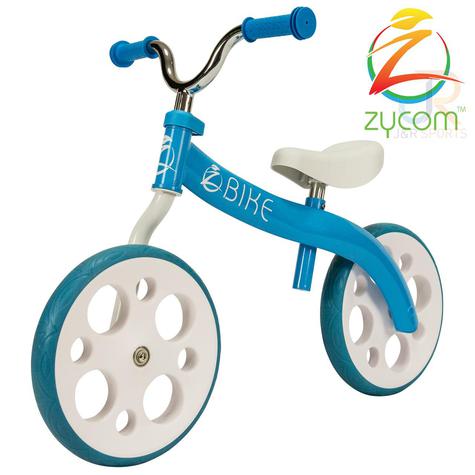 ZYCOM Z BIKE - SKY BLUE / WHITE
Balance bikes have been around in various designs for a number of years, but the Zycom ZBike is like none that you've seen before!
The breathtaking design of the ZBike is what will first attract you but then when you take a closer look at the open wheel setup and perfectly balanced unique 'Z frame' you will see that the ZBike not only looks good, but is functional too and designed to grow with the rider thanks to the height adjustable seat.
A chrome plated height adjustable handle bar offers a limited range of movement to help toddlers perfect their balance and attaches to a 12" Zycom Classic Wheel which has a wide tread pattern for extra grip and stability.
Features:
17" Wide One Piece Chrome Plated Handlebar
Comfortable Non-Slip Grips with Large Bar End
Balanced Lightweight Z Frame
12" Zycom Classic Wheels with a Wide Tread
Adjustable Handle Bar Height
Height Adjustable Seat from 40cm up to a max height of 45cm
Overall Assembled Dimensions - H: 62cm (24.5") L: 82.5cm (32.5") W: 43cm (17")
Order by 4pm Monday to Friday, and we'll dispatch your order the same day!