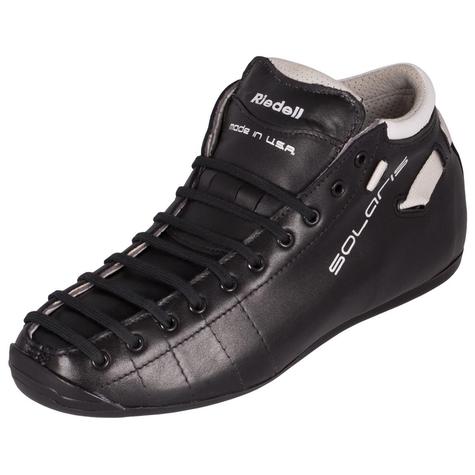 When comparing the new Dynamic Response Outsole against carbon fibre outsoles, the difference in weight is negligible (less than a fraction of an ounce!), and the benefits are far greater. The two piece outsole offers rigidity compared against carbon fibre, whilst offering a better fit and matching to the contour of the riders foot better than other carbon fibre outsoles.
When it comes to mounting plates to the Dynamic Response Outsole, you will find that this outsole is much less fragile than its carbon fibre counterpart, and both the polycarbonate and polyurethane compounds drill easily. To make the mounting of the Riedell Solaris boot even easier, Riedell have moulded two small dots into the outsole (one at the front one at the rear), to indicate the centre line of the boot to make it even easier when it comes to mounting the plates of your choice.
The fit of the Riedell Solaris boot is uniquely contoured to your foot thanks to the four heat mouldable quarters on each boot. This is perfectly complimented by the modern shaped toe area which accommodates both narrow and wide feet, snug fit of the heel area to help eliminate heel lifting during skating which is further assisted by a new and innovative 'V-Lock' strap design and an anatomically curved and padded collar designed to cradle the curves of your ankles.
For added comfort the Solaris boot features the premium, full grain, black Kango-Tan leather, which is unrivalled in the industry and offers a superior fit. The tight weaved, microfiber lining of the Strata liner has been specially treated to prevent odours and absorb moisture is paired with the dual density foam padding of the fox tongue, which has been designed to provide both comfort and protection against lace bite from the waxed laces and also tongue rotation.
Available in full and half sizes from 3.5 to 12, split sizing is available (as a Semi-Custom Option) along with ColorLab Customisation, the Riedell Solaris boot is the new standard in roller derby skate boots.
Order by 4pm Monday to Friday, and we'll dispatch your order the same day!