Frenzy 205mm Dual Brake Recreational Scooter Champagne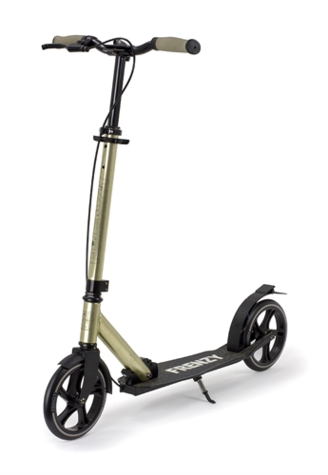 Frenzy 205mm Dual Brake Recreational Scooter Champagne
The Frenzy 205mm Dual Brake Plus has been treated to upgrades from top to bottom, now featuring Frenzy's signature folding system and wider deck plate, premium 205mm wheels coupled with the Frenzy anti-wobble top bar clamp and dipped bars, all makes for a smooth ride and perfect commuter scooter. Still with Frenzy's dual hand and foot braking system and hard wearing premium anodised finish, available in the popular champagne and titanium colours, the Frenzy 205mm Dual Brake Plus is a sure fire winner for any commuter scooter user.
Adjustable Bar with Anti-wobble Top Bar Clamp
Colour Coded Comfort Bar Grips
Hardwearing Anodised Finish
Wide Deck Plate
Easy Folding System
Aluminium Kick Stand
Length Adjustable Carry Strap
Min Height: 87 cm
Max Height: 96 cm
Length: 91 cm
Width: 49 cm
Hand and Foot Dual Brake system
Order by 4pm Monday to Friday, and we'll dispatch your order the same day!