Rollerblade 2016 Spitfire Cube kids inline skates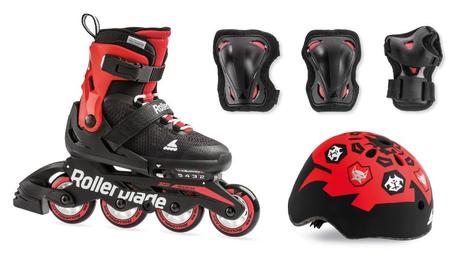 Rollerblade 2016 Spitfire Cube kids inline skates
Push-button adjustability, comfort and great control to ensure the right performing components are fully utilized and enjoyed. Helmet, wristguards, knee pads and elbow pads included.
All our kids skates feature a 4 sizes expandable shell. You must refer to the information written on the box to know the size range. To enlarge the skate, press the button and slide the toe box forward.
Technical Information:
Shell / Upper - Microblade 4 sizes Expandable, Engineered Mesh
Liner- Performance Junior Liner.
Closures - Cuff Buckle, 45o Strap, laces.
Frame - Monocoque composite (Max 4x72mm or 3x80mm)
Wheels - Rollerblade 4x72mm / 80a
Bearings - SG3
Brake on Skate
Order by 4pm Monday to Friday, and we'll dispatch your order the same day!