Moxi Beach Bunny ROLLER Skates - Peach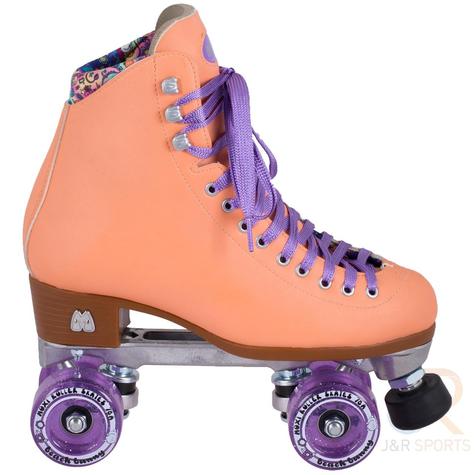 Moxi Beach Bunny ROLLER Skates - Peach
Every aspect of the Beach Bunny skate from Moxi has been designed with the input from Moxi skaters around the world and has a fun, cute Moxi design printed on the liner, which is specific to the Beach Bunny.
The 58mm 78a outdoor, glitter wheels have been created specifically for the Moxi Beach Bunny skates and are paired with matching sun reflecting laces to give the Beach Bunny skates a bright, summery feel even when you're skating indoors.
To make the new Moxi Beach Bunny skates that little bit more appealing, Moxi have made the Beach Bunny to be animal friendly and have included a pair of matching Toe Caps with every purchase of their new Beach Bunny skates, to keep your skates looking fresher for longer!
Features:
Drum-Dyed vinyl high cut boot
Ergonomically designed collar and added ankle support
58mm 78a Outdoor glitter wheels
Made from Animal Friendly materials
Matching vinyl toe cap
Specification:
Boot: Beach Bunny High Cut
Plate: Marvel Aluminium
Wheels: 58mm 78a Glitter Beach Bunny
Bearings: ABEC-5
Toe Stop: Adjustable Black
Order by 4pm Monday to Friday, and we'll dispatch your order the same day!