Riedell Dart Black / Neon Green Roller Skate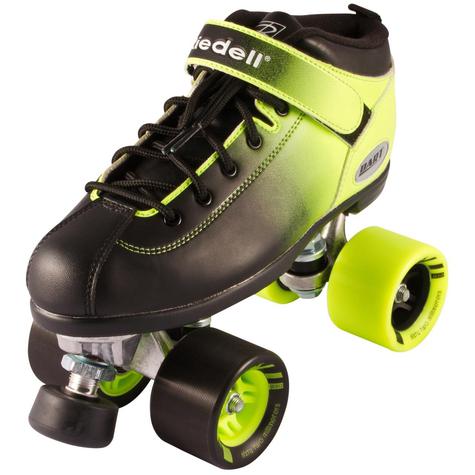 Riedell Dart Black / Neon Green Roller Skate
New for 2015 is the Riedell Dart Ombre skates and the truly unique look of the new Dart skate will get jaws dropping as you speed past them towards your target. The 'dip-dye' or 'ombre' effect is created by blending one colour into another from light to dark and produces show stopping results, for the Dart Ombre skate this effect has been created on the man-made boot using a silk screen printing process.
Riedell are the #1 brand when it comes to roller skates and they are known throughout the world for their attention to detail and high quality products and it is no different with the new Dart Ombre skate.
The Dart Ombre boot is fitted to a die cast aluminium plate with an adjustable toe stopper and exclusive matching wheel/hub combinations that you won't see anywhere else.
Specification:
Boot: Dart Black/Yellow or Blue/Pink
Plate: Die-Cast Aluminium Plates
Wheels: Dart 62mm / 93A
Bearings: ABEC-5
Toe Stop: Midi Gripper
Order by 4pm Monday to Friday, and we'll dispatch your order the same day!