Quad Skates, Ice Skates, Skateboards, Scooters, Figure Skates & Roller Derby
Welcome to Skate Attack, the UK's favourite destination for custom roller skates and skating products.
We're the one stop shop for the most popular skateboards, scooters, skating and roller derby products in the UK, plus clothing and protective gear.
We have a great selection of products available, whether you're an expert skater or just starting out with sizes from children to adults from many leading brands including MPG, Graf, Bauer and more all at incredible prices.
Featured Products
Custom Designs
Nobody wants what everyone else can get, be unique and create your own custom roller skates.
With over 20 years and more, experience designing and creating custom skates for customers we can bring your dream skates to reality.
You can choose from a variety of designs, materials, colours and more, so you can be as creative as you want.
Start designing your dream roller skates today with Skate Attack!
Design Inspiration
Need some design inspiration? Visit our custom skate's page to view some of our previous skates we have made for customers.
With over 30 years' experience in the industry, we are true skating experts.
Whatever you're looking for, we can offer professional advice on all of our products to ensure you choose the right item.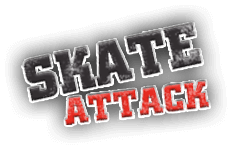 Skate Attack
Established in 1979, you can purchase from Skate Attack via our online store or North London shop.
If you have any questions please don't hesitate to call us 0208 886 7979, email us [email protected] or come and visit our shop in North London.
We hope that all our customers stay safe!
Shop opening times are now:
Monday to Saturday 10am - 5.00pm
Sunday 11am - 4pm Bank Holidays closed
Looking for the latest roller skates, Kids quad skates, stunt scooters, skateboards, balance bikes and more? You've come to the right place.
Need your skateboard or skates repairing? Don't worry, we can carry out repairs and fit plates on a range of makes and models at our shop in North London. Get in touch and see what we can do for you today!