ALL YOU NEED TO CLEAN YOU SKATE BEARINGS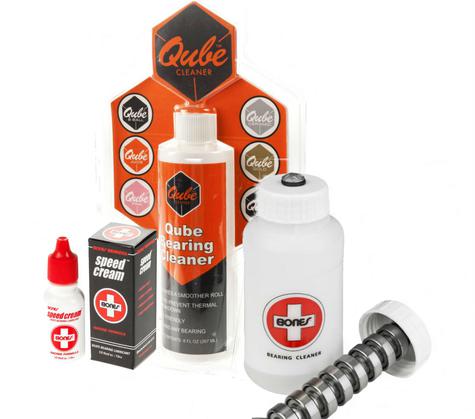 ALL YOU NEED TO CLEAN YOU SKATE BEARINGS
In this kit you get all what you need to clean your bearing with and help them last longer and perform better.
The kit come with Bones bearing unit, Qube wash cleaner, Bones speed lubricant.
To clean your bearings, use the Bones unit, place your bearings on to the axle (which is the metal rod on the lid) place the spacer (which is also on the metal rod) in between your bearings, only 8 of your bearings can be cleaned at one time.
Then use the Qube wash pour about 1/3rd in to the unit, replace the unit`s lid. Shake unit well do this for about 30 seconds, you can do it longer if you feel the bearings may need it. Open the unit and before you take the bearing of the rod give then a spin a few time to take of any wash that may be still on the bearings. Then remove the bearings from the metal rod and dry them with a cloth. When bearings feel dry then use the Bone cream lubricant, put one to two drops on each bearing , then when you have lubricant a bearing spin the bearing between your thumb and finger this will distribute the lubricant into the bearing better.
When you have clean and lubricant your bearing put them into your wheels and away you go on a smother, cleaner bearing.
Order by 4pm Monday to Friday, and we'll dispatch your order the same day!