ZYCOM FOLDING ZTRIKE - BOYS BLUE / WHITE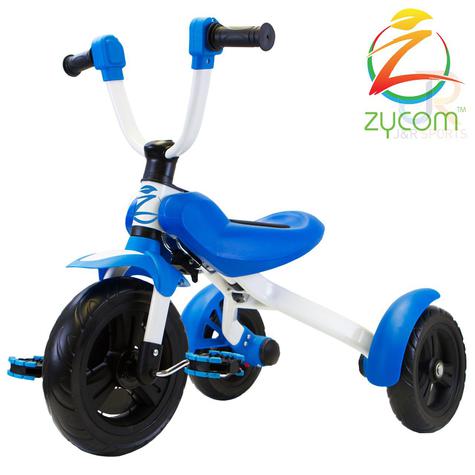 ZYCOM FOLDING ZTRIKE - BOYS BLUE / WHITE
The Zycomotion ZTrike is the perfect introduction to pedal trikes, and features the stand out quality and design that you've come to expect from Zycom
The Ztrike from Zycom has been designed to grow with your child from approximately 18 months onwards. Whilst your child is beginning to discover their independence, Zycom have included a 'freewheel switch' to the front wheel hub. This will allow you to lock the wide, gripped pedals into position, to enable your child to rest their feet on the pedals or power themselves along by foot. As your child grows and their co-ordination skills develop, the freewheel switch can be adjusted to allow the pedals to move, allowing the child's development to continue.
As with all trikes, the Zycom Ztrike is set over a wide, three wheel geometry, to provide a stable and supportive platform for your child. This is further complimented by the large, EVA treaded tyres and smooth rolling plastic hub, to develop their co-ordination and judgement skills, whilst having hours of fun and is virtually maintenance free!
Whilst the Ztrike maintains the use of high quality components and eye catching designs that you've come to expect from Zycom, the ergonomic design of the Ztrike hides an impressive secret - it folds!
A unique folding mechanism allows the Zycom Ztrike to be folded and unfolded quickly and easily for storage or transportation. Thanks to the wide set, three wheel geometry of the Ztrike, when it is in the folded position, it will remain upright unaided, meaning it can be compactly and conveniently stored anywhere.
Features:
Unique folding action for convenient storage and transport
Large front and rear EVA treaded tyres with maintenance free plastic hubs
Wide and stable wheelbase
Freewheel switch to allow your child to power themselves by foot or by pedal
Recommended for children aged 18 months to 5 years up to a max weight of 50kgs (110lbs)
Order by 4pm Monday to Friday, and we'll dispatch your order the same day!