Sure Grip Avenger Magnesium White DA45 Plate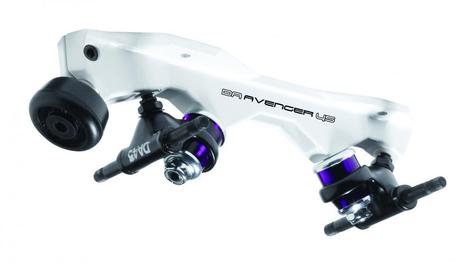 Sure Grip Avenger Magnesium White DA45 Plate
If you like your Invader plates, you're going to LOVE the Avenger - available in a super lightweight magnesium blend. Redesigned from the Magnum plate of the 1980's, every inch of the Avenger has been completely digitally designed - wall thicknesses, height, length, angles, and materials - all selected with a purpose. Featuring some never-before-seen elements, such as a hollow kingpin, and sporting redesigned 45-degree DA45 trucks, this lightweight frame will guide your skates to cut and kill on the roller derby track.

Magnesium: By using unique weight-saving techniques, the aluminum Avenger is 12% lighter than the standard Invader plate. And by utilizing a complicated magnesium alloy, the result is a magnesium blend plate that is a full 25% lighter than the Invader.

Hollow Kingpin: Designed only for the Avenger plate, this kingpin is 30% lighter than traditional kingpins, and made of hardened prime grade steel. It will not fit any other plates, and comes pre-installed.

Hollow Plate Center: The center section of the plate has been hollowed out to save weight, with the height extended to increase rigidity length-wise.

Shortened Front End Design: For those who want to use the aggressive short-forward mount (typical with 45-degree plates), this will prevent your frame from hanging out over the front of your boot. Although optimized for short-forward, the Avenger will suit a standard mount just fine.

We also fit plates.
Order by 4pm Monday to Friday, and we'll dispatch your order the same day!