Riedell PowerDyne Hop up kit Cushions
£18.95
Saving: £1.05
RRP: £20.00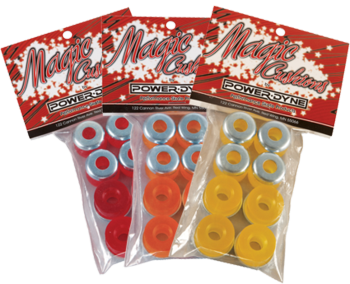 Riedell PowerDyne Hop up kit Cushions
£18.95
Saving: £1.05
RRP: £20.00
The Hop up kit will fit most cushions on a standard roller skate truck with the added action of the conical cushions. The kit comes with 4 standard cushions and cushions cups with 4 conical cushion and cushion cups.
The cushion are made high rebound cushion.
Red 78a soft - Lots of flexibly
Orange 82a - Medium Great compromise
Yellow 85a Frim - More resistance
Purple 89a X Frim - Extreme resistance
Order by 4pm Monday to Friday, and we'll dispatch your order the same day!