Suregrip Plates Rock Boxer white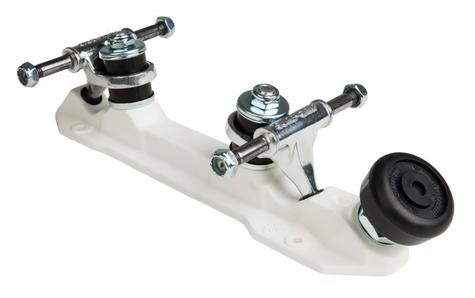 Suregrip Plates Rock Boxer white
Lightweight DuPont nylon plate featuring a standard 10 degree double action truck, perfect for those who want a light weight plate but all the strength of an aluminium plate. One of our most popular plates for more than 15 years. The DuPont nylon that we use is far superior to any other competitor in the market, zero defective parts. This product is so good we trust it for use in our skate rental products.

Plate – DuPont nylon
Trucks – Cast aluminium, Double action truck
Hanger – Integrated
Axles – 8mm steel (Inc. Axel Nuts)
Cushions – Standard urethane
King pin – Inverted fixed kingpin (Inc. Kingpin Nuts)
Stopper – Carrera Adjustable Black 5/8 (Inc. 5/8 Skins Toe Stop Nut and 5/8 Skins Tow stop Washer)
Supplied Part assembled.
Toe stopper and wheel nuts come with plate
Order by 4pm Monday to Friday, and we'll dispatch your order the same day!